iNDIEFLIX at SXSW Interactive 2022
by Cicely Hunscher, on Mar 22, 2022 12:53:26 PM
Scilla Andreen, founder and CEO of iNDIEFLIX, recently participated in SXSW Interactive. At the event, she met new thought-leaders, reconnected with old friends in the industry, and participated in two lead panels! The panels focused on the theme of Web3, considering the possibilities as well as the challenges that exist within this budding space.
This post includes a brief synopsis of each panel, including key takeaways, compelling questions, and favorite quotes from the discussions. Check out iNDIEFLIX's Discord Channel and other social media channels (@indieflixofficial on IG and TikTok) to see more details and behind-the-scenes footage from the event!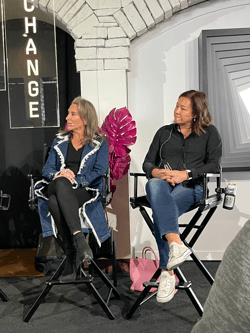 The first panel was a virtual discussion hosted by the Unstoppable Women of Web3 Twitter page. This particular panel was part of a larger 24-hour event sponsored by Unstoppable Domains, one of the leading companies responsible for providing blockchain-based domain names. This event aimed to highlight female filmmakers in Web3 and how they navigate their way through this new virtual space. The panelists also discussed the broader topics associated with Web3, including NFTs.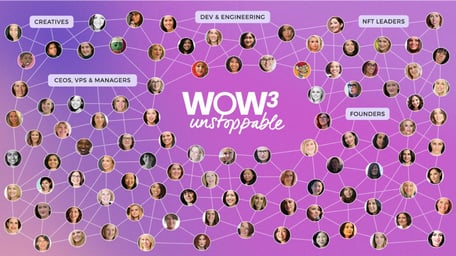 Paige Williams, a staff writer for The New Yorker, helped moderate the discussion. She began the conversation broadly, asking: "What is the potential of Web3 for creators and filmmakers like us?"
Julie Pacino, a longtime contributor in Hollywood, discussed the implications of Web3 for art ownership. "It's all about giving the power back to the audience - that's something that's missing from Hollywood right now… The Web3 community is the antithesis of Hollywood in many ways," instead of money, "it's about art." As opposed to the established norm, now "the freedom and power reside solely in the artist, and that's how it should be." She also expressed her excitement "about the future between films and NFTs," saying how "the NFT space rewards honesty and vulnerability" in a way that Web2 could not (Pacino).
Julie is currently working on a new project called Keepers of the Inn, a film entirely funded by NFTs. Julie's current work is an excellent example of how advantageous Web3 can potentially be for artists and how it's paving a new way forward for how artists work in Hollywood and beyond.
Scilla Andreen, CEO and Founder of iNDIEFLIX, said that "this is a creator-driven opportunity. Anyone has the opportunity to create awareness [and] impact. There are so many opportunities [in Web3]. The Blockchain and NFT space is a fascinating place to play." The notion of reverting to a childhood state and playing is a theme that comes up when discussing NFTs, the Blockchain, and Web3. Web 2.0 is plagued by exploitation and restriction, whereas Web3 seems to have the potential to provide a new, exploration-driven, supportive, childlike space.
The next question was explicitly posed towards Scilla: "What is the future of iNDIEFLIX and Web3?"
Scilla answered by saying, "Web3 to me is definitely [about sticking up for having] the rights to stay with the creator. It's a creator-driven economy" (Andreen). Scilla then discussed social networks within Web3, mentioning that she "loves taking social networks to the next level and exploring [how] to create communities that can make meaningful positive change" (Andreen). Not only does iNDIEFLIX already support a lot of the actions that Web3 fosters, like individual/creator rights, iNDIEFLIX is also eager to explore the new age of the internet.
Another question posed by Paige Williams was, "What are lessons you've learned since being in Web3? What technology allows artists to create and sell art in Web3 repeatedly that differs from real life? And lastly, how can artists begin to own their art and the experience they give and the community they cultivate" (Williams)?
Sandy Carter, a leading voice in the NFT world and the Senior Vice President and Channel Chief at Unstoppable Domains, said that "we have to become inclusive now because we're shaping the space. WE build that inclusiveness from the very beginning" (Carter). Many users of the internet believe that inclusivity and support are missing from Web 2.0 but embedded within the structure of Web3. There is a responsibility to maintain this inclusivity as the space progresses. When asked what lessons she's learned while in Web3, Scilla said that Web3 is "a time of being a pioneer and exploring, but I think we're exploring in a really awesome space."
The second panel Scilla participated in was an in-person discussion hosted by Blockchain Creative Labs, the official blockchain sponsor of SXSW. This panel explored room for empowerment within Web3, new forms of entrepreneurship, and how Web3 provides an inclusive place for innovation and opportunity for everyone.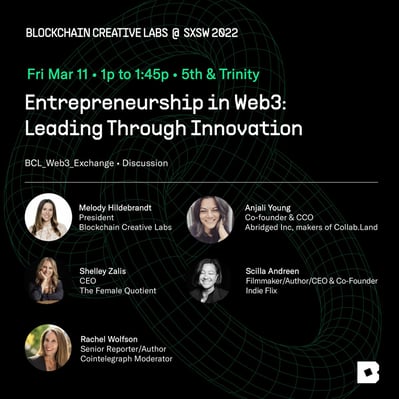 Scilla was joined by four other trailblazing women, each personally and professionally invested in Web3. The other panelists were Melody Hilderbrandt, President of Blockchain Creative Labs; Anjali Young, Co-Founder, and COO of Abridged Inc, makers of Collab.Land; and Shelley Zalis, CEO of The Female Quotient. The panel was moderated by Senior Reporter/Author at Cointelegraph, Rachel Wolfson. As an audience member, it was fascinating to hear each panelist's view in the Web3 discussion, how each individual got started in Web3, and what they see as the future of Web3. The panelists also talked about NFTs, the rise of Web3 during the Covid-19 pandemic, safety within the internet, how to get started, DOAs, joining a community, and more.
A central theme discussed in this panel was the question of how do we actualize the full potential of Web3, and more importantly, how do we bring others along with us to help with that journey?
To make a long answer concise, Scilla said, thriving in this new environment "is about truth [and] not [just] trust" (Andreen). Overall, it seems like there's greater transparency within Web3 - so as the audience, you have the tools to know that what is being conveyed is the truth, instead of just having to TRUST that the other body is telling the TRUTH. The core is transparency.
In a similar vein, Anjeli Young discussed the dangers of Web3, explaining the scams, the manipulators, and how there is no one to call when something goes wrong. "Start small" (Young) she kept repeating to the audience, over and over again. Start Small.
As we can gather from only two panels, there is still so much to learn about Web3, and being eager to learn is probably the best place to start. As a closing thought, consider this quote from panelists Anjeli: with Web3, "we're inventing the future right now."